If I ever decided I didn't want to pursue nursing, my go to dream occupation would be to own a boutique in south Georgia. I'm in love with southern, classic style and I'm obsessed with ladies who rock that style. I am by NO means a fashion expert, but I did have enough credits in undergrad to have a minor in fashion and textile design. Oddly enough, those textbooks are the only ones I saved, too. ;) I've seen way too many teenage girls and even adult women walking around town, posting pictures on facebook and on twitter looking absolutely horrific. And, I often wonder if they even looked in a mirror before they left.
Well, about a week ago, I posted a question on Twitter, Facebook and Instagram about fashion-if anyone had any questions or favorite stores or style tricks. The response was overwhelming! I received about 100 responses with questions and tips. So, I decided to compile all the information and share it with you!
Q&A
1. What do the style gods say about white after labor day? I feel like that is an outdated rule and I own a lot of white but feel like I don't get enough wear of my pieces because of the "fashion rule." -Kelly Y. from FL
This is a great question! In all of my style books, everyone seems to have a resounding YES! to white all year round. If white is a staple for your wardrobe, that is even more of a reason to own it. Everyone cannot pull off a lot of white in their wardrobe so if you can, I say go for it. Remember, though, there are a lot of different shades of white. Kate Spade suggests mixing creams and navys in early fall and shift to more off white and deeper colors for winter before returning to stark whites and bright colors for spring and summer.
This is a classic look. Find a staple white piece-a skirt or a shirt- and pair it with a simple sweater. Add a pop of color with fun heels. (Photo credit: Pinterest)
2. I need a good go to list for what to bring with me to the beach. We always stay in a condo down the street from the beach so I don't want to go back and forth after forgetting items. What's a good list of items that won't leave me missing anything? Hillary G. from GA
I love this question! I wondered the same thing for a long time because once I'm on the beach, I'm there to stay for the day, too. Carrie Underwood once revealed her beach bag necessities a few years ago and I love it and stick to it. Hope this helps:
thermos of juice or rehydrating sports drink (laying out is hard work)
cover up (you WILL start to get too hot at certain points if you stay outside for any length of time, don't ignore your body when it needs a little extra coverage)
beach umbrella and chair (spending a little more on a beach chair IS worth it, you can find great ones for $20 at target)
lip balm and sun screen (sun poisoning is very common on lips because your lips are super sensitive and most people don't protect them, my favorite is kielh's)
sunglasses (again, in my opinion, spending a little more that provides the most protection from the sun IS worth it)
a fun bag to carry it all in
Vogue and Glamour are my favorite beach magazine reads (Photo credit: Pinterest)
3. Do you have any tips on organizing your closet space? I've tried by color but that doesn't work for me. -Lauren H. from AL
My closet is organized by color and it works for me! Everyone has different organizational styles and preferences so even though color doesn't work for you, no worries! There are several other ways you can organize your closet. Lauren Conrad and Kate Spade have a chapter about closet spaces in their style books that I consulted for this question. Season and type are two other ways to organize your clothes. It's easier for some people to have the closet organized by season so they don't have to look through 4 seasons at once to decide. This is a great idea that I may try soon. The other option, by type, seems the most logical. It is simply organizing all the jeans together, skirts together, etc.
4. What are your opinions on crocs? My husband has a pair that I've been guilty of slipping on to run to the gas station, grocery store, and other places before. Am I banished to fashion hell? Dedra W. from LA
First off, I need to laugh a little at your question. This is hilarious. I personally do not care for crocs, in any situation. If you like them because they are convenient, look at local department stores or even Old Navy for a few pairs of cheap flip flops. They are easily accessible and more stylish than crocs. If you are wearing them to a water park or around the pool, I only recommend this for babies under 3. This is just my opinion. There are some fashion ideas that I'm obsessed with that may offend others and that is what crocs do for me. :)
5. I have a million handbags that I probably switch once a week or at least every other week. I don't use them often because I have so many so they hold up but what do you think is better-lots of cheap ones or a few expensive bags that you carry for a while? -Emma R. from TX
I am TOTALLY a "few, expensive bags" kind of girl. Even as a highschooler, I always got one good handbag for my birthday and would carry it all year until next year. Currently, I have three handbags that I've had for about a year or less. I've been carrying a hobo style dark grey Michael Kors bag for a while. I got my first Marc Jacobs bone colored hobo bag for my birthday last year and I love it. And, of course, the Longchamp is a bag you can take anywhere and always be in style.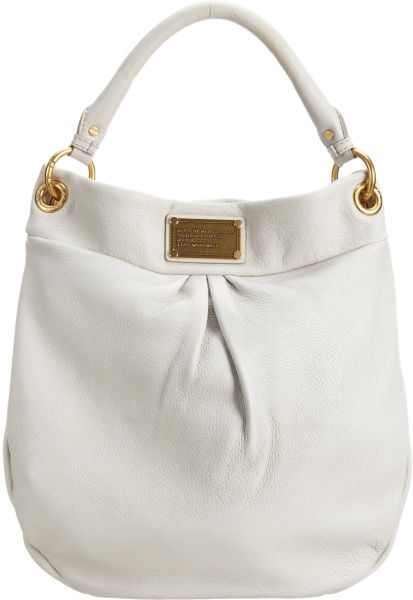 This is my Marc Jacobs bag. Love it!
6. WHAT is the deal with cowboy boots and the south? I HATE them so much. How are they "stylish." Sorry for the hateful question. I always see girls in sundresses with gaudy, sparkly boots. I love the south, hate the boots. -Kari R. from WI
Hahahaha. Well, I don't think anything I could say would make you change your mind, then. BUT, I don't think it's just a south thing. I have several pairs of cowboy boots that I honestly wear more in the winter with some straight legged pants and tops than in the summer with sundresses. I advise you to look up Frye boots. They are CLASSIC, and most don't have glitter. :)
7. I like the idea of scarves but never wear them because I have no clue how to tie or style them. Help? Rachel S. from MS
I was never a scarf person, either, until about three years ago. I think, personally, the trick to the scarf is to make it the pop to your outfit. I don't like bright items topped with a bright scarf-but that's just my opinion. I don't even think I have a patterned scarf now that I think of it. I love wearing a printed top paired with a solid scarf for extra neck warmth and for extra style. There are PLENTY of websites and tutorials online on ways to tie or wear them.
8. Do you think that wearing white to a wedding is okay? -Beckah F. from MS
I don't. Unless you're the bride! :) You can look stunning attending someone's wedding in any color that goes with your style and skin tone. Just not white at someone's wedding.
9. What are some of your favorite places to shop or brands to buy? -Coleen K. from WA
I haven't been shopping in forever! Ahh, now after I post this, I am. Ha! I LOVE Banana Republic and JCrew. They are a little pricey but their pieces last forever. Plus, if you can live near an outlet store, try there. They have great deals. There is a brand that Belk carries called American Apparel that I love. It's very southern and sweet and flowing pieces that I love. Target and Old Navy have great summer dresses and sweaters. And, there are several local boutiques or boutiques on Facebook that have cute monogrammed tees that I love.
10. If you could only have 3 beauty items for the rest of your life, what would they be? -Sara G. from GA
Mascara, eye liner and lip gloss. I never wear powder, anyways, so I wouldn't miss that. But, I don't have long eyelashes so mascara is my staple. And lip gloss makes everybody's lips look scrumptious.
Thank you to everyone who sent in questions. There were several about the same topics so I hope I answered the most asked. What are some of your favorite style rules or beauty basics?