Well, kids, it looks like I'm God's favorite.
This could be a post all on its own. But, y'all are probably wondering how it all went down, so here goes:
So I woke up like any other day to start off what was the best day of my life around 7 AM yesterday morning. Ha.
Fast forwarding>>> I really wanted this cute dress from Belk but it was sold out. Boo. I went back home and started getting ready when B A M, out of NOWHERE, my back started literally killing me with pain. I have kidney stones and kidney infections sometimes and that is exactly what it felt/feels like but it came out of no where. There was a good 30 minutes that I felt so bad I didn't think I was going to go. I prayed more than I've ever prayed and took more Tylenol than anyone EVER should and the pain eased up. The show started at 7 but we (my sister Lauren and I) know from previous concerts that the local country radio stations do give a ways for meet and greet sometimes. We tried to get meet and greet from the Fan Club but we weren't successful. Anyways, we wanted to get there as early as possible to try to win some passes. Luke's birthday is next week so I told her we should get him a cupcake from Edgar's JUST IN CASE we got to meet him. Ha. Well, we went to Edgar's and I ended up buying a cake. Bahahaha.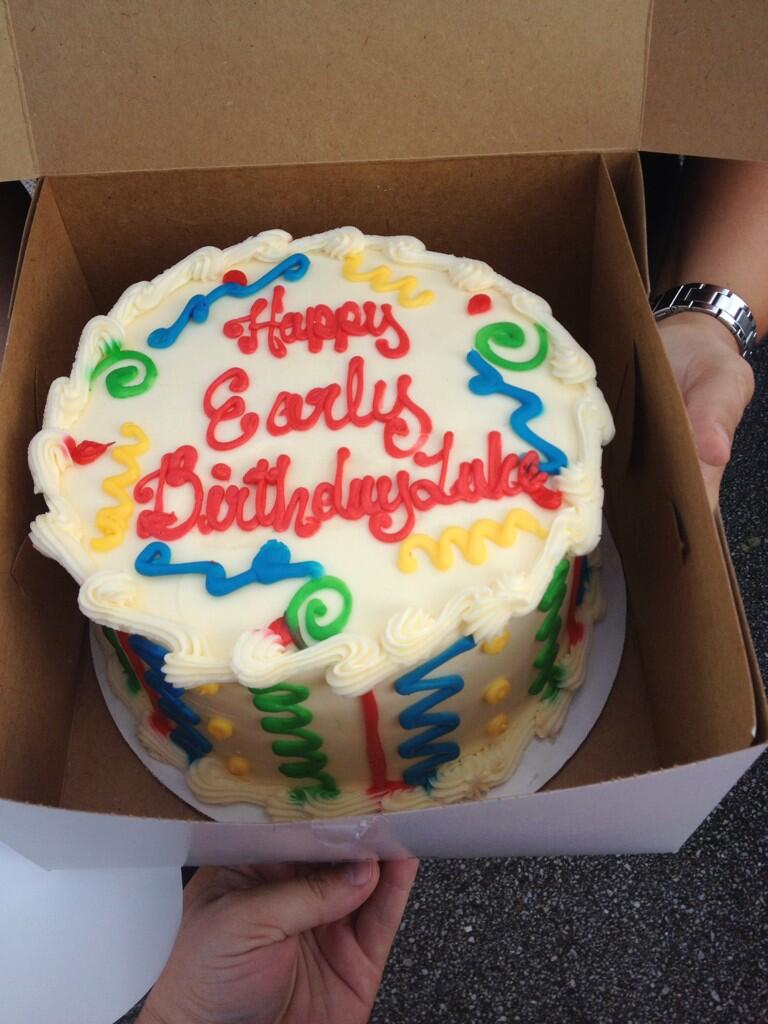 A bit much. I know. Whatever.
So, we head up to the tents to register and wait for the drawings. 102.5 The Bull was doing a booty shaking contest and YOURS TRULY was chosen from over 1,00 entries. Lucky? ;) Well, I shook it but some little tootsie turd with no pants on won so there's that. I was crushed! Ha, all of our attempts were gone. Oh well. I have a Luke Bryan fan friend, Pam, that DID have a meet and greet so I decided to let her take him his cake. I mean, he needed this cake. After I took the cake to her, I sat down on this little bench area because my back started hurting again. It was RIGHT IN FRONT OF where the meet and greet people were walking in. My heart crushed with every person that walked by. Hahaha. When, all of a SUDDEN, these two women holding beers weren't allowed in because they had beers.
THROW YOUR BEERS AWAY AND MEET LUKE BRYAN!!!! RIGHT??
Wrong!! They started yelling and "f this and f that" and ripped off their meet and greet passes IN FRONT OF MY EYES. I'm on my death bed, err bench, of death, but I JUMPED up and begged for her pass. She GLADLY just gave it to me and I ran to the gate. But, you know, where's Lauren in all this? She's sitting down watching Florida/Georgia Line. She'll be fine. Whatever. No. I felt horrible. Then, I saw the OTHER girl rip hers off so I ran back and begged for the other girl's pass, too. Again, she just hands it over. So, dying, I RUN back to our seats and just yell and jump up and down in front of Lauren and we RUN to the meet and greet. Whew. I'm exhausted and sweaty. Ha. But, we saw Pam and got the cake back and met that sexy, perfect man. It went exactly like this:
Katelyn: Hey! We brought you a cake. An early birthday cake for next week.
Luke: What? You shouldn't have done that. Thanks for doing that.
Katelyn: Thanks for being born.
Luke: Want me to sign this ticket?
Luke: Alright, smile. Hold on, you have a lot of hair. Okay, here we go.
Katelyn: *being smily and giggly and challenged*
Luke: Alright, thank you baby!
I'm dead. I'm dead. I'm gone. Bye.
We are on Cloud 210974389264.
We walk back to our 20th row seats and sit down. 20th row for Luke is perfect, right? I mean, a lot better than being row 500. Well, when you've seen Luke front row twice, NOTHING will ever be as good as front row again.
So, we ventured to the front just to stand around. Security made us leave. Butt heads. Well, there were a few empty third row seats that we just walked up to. 3 minutes later, the lights go down and people start going to the front. Yours truly included. We are FRONT ROW AGAIN!!!! My hands were touching the stage. PERFECTION. I took over 200 pictures before my phone died but I'll leave y'all with the best. So, I met him, hugged him, gave him cake and full on SPANKED his tush during Country Girl. Only fitting, right?